​​Maximize your business potential and discover the synergy of ServiceNow and Tableau in our exclusive webinar "Tableau ServiceNow Integration: Demo & Use Cases" and unlock the full potential of your business! Explore the art of integration and empower your ServiceNow data analytics with advanced Tableau reporting and visualization capabilities. Reserve your spot now and seize the opportunity of a transformative journey toward unparalleled success!
During the webinar, Alpha Serve's renowned industry leaders, Chief Strategy Officer Anna Odrynska and Head of Tech Support & QA Liubov Topchyi, will walk you through the simple steps to export data from ServiceNow to Tableau. Alongside, they'll shed light on actual use cases, complemented by demonstrations of acSoft's Tableau Connector for ServiceNow, emphasizing the simplicity of integrating these robust tools.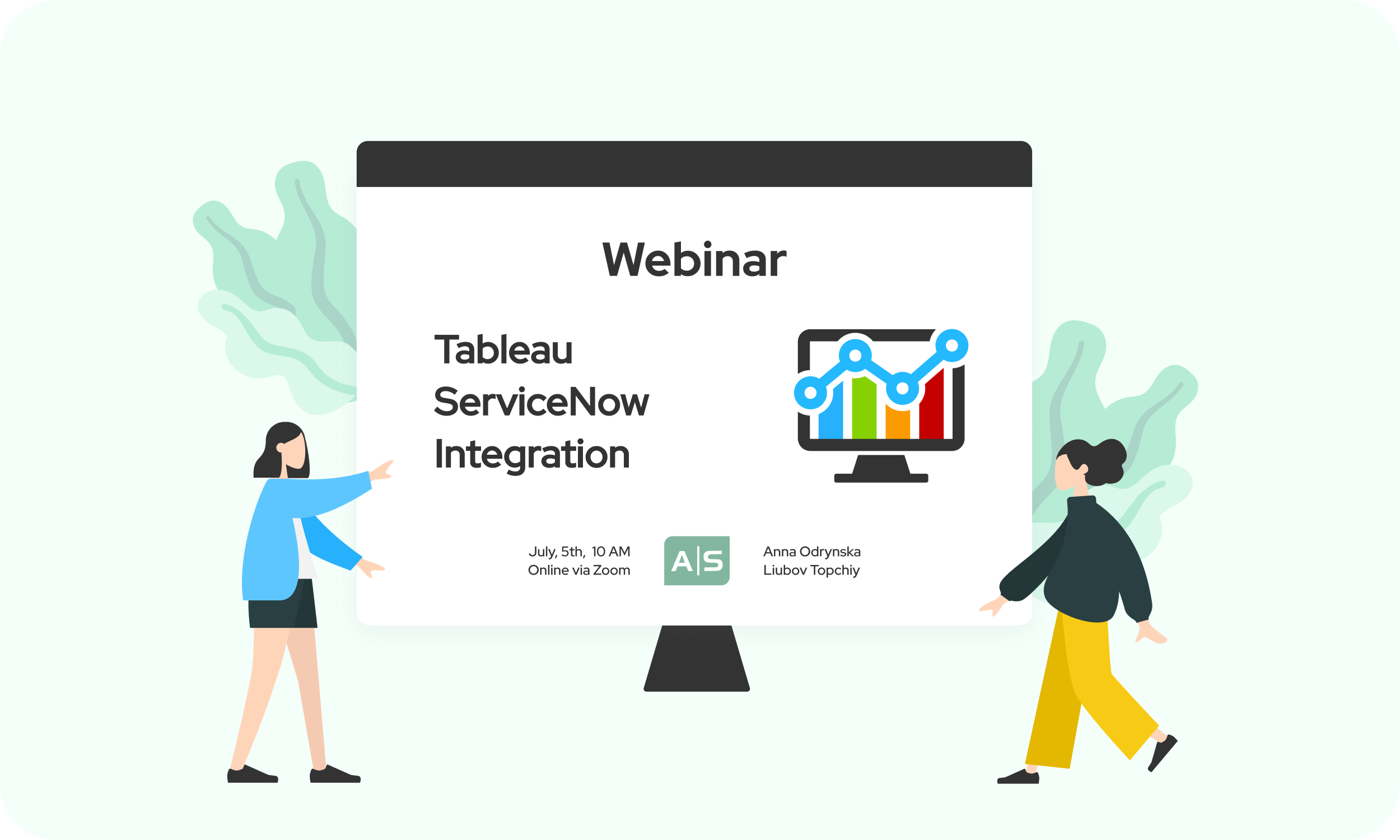 Here's what you can expect to learn:
The importance of ServiceNow data analysis and its indispensable role in extracting valuable insights, enabling businesses to make well-informed decisions and drive strategic growth.
The incredible benefits of using Tableau for ServiceNow reporting allow you to create visually stunning data visualization, build customized reports effortlessly, and seamlessly integrate with multiple data sources.
Different integration options, from advanced ServiceNow API to the no-code solution Tableau Connector for ServiceNow, simplify the process and frees you from the complexities of development.
Key features of the Tableau Connector, such as customized data selection, advanced filtering options, a dot-walking mechanism for exploring related records, and data security controls.
Examples from actual situations demonstrate how Tableau ServiceNow integration can facilitate quick feedback-boosted strategic thinking and interactive data analysis.
This webinar is essential to attend if you want to improve your ServiceNow reporting skills with Tableau Software and get a competitive edge in the info-driven age, regardless of whether you're an IT expert, business analyst, or data enthusiast.
Save the Date: 5 July 2023
Time: 10 AM PDT (UTC – 07.00)
Duration: 45-minute session
Register here: https://store.servicenow.com/sn_appstore_store.do#!/store/events
Take advantage of this exclusive opportunity to harness the full potential of ServiceNow and Tableau, revolutionizing the way you leverage data in the modern business landscape. Join us now and get ready to elevate your reporting and analytics skills to the next level!
Missed our July 5th, 2023 event or want to revisit it? Access the complete webinar recording at your convenience by simply filling out the form below.
Webinar Recording Access
"*" indicates required fields