Unlock the Power of ServiceNow Data Visualization for Informed Business Decisions!
Join us for an exclusive webinar, "How to Build Custom ServiceNow Reporting and BI Analytics" and discover the key to harnessing the full potential of ServiceNow data for your business success. Whether you're an IT expert, business analyst, or data enthusiast, this event is a must-attend for anyone looking to leverage ServiceNow data for making strategic decisions.
During this insightful webinar, Anna Odrynska will guide you through the process of creating custom ServiceNow reports and share real-world examples of customer reports using popular BI tools like Power BI and Tableau.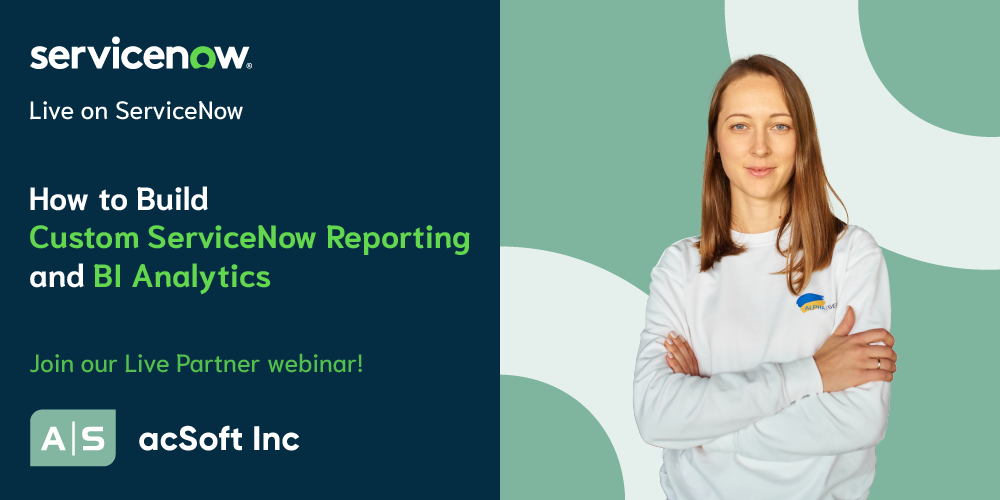 The session will cover the following topics:
The Critical Role of ServiceNow Data: Understand the significance of ServiceNow data in driving informed decisions and achieving business success.
Building Custom ServiceNow Reports: Learn the options of creating tailored reports that meet your specific business needs.
Power BI and Tableau Integration: Explore how to effectively use Power BI and Tableau to visualize and analyze your ServiceNow data.
Real-World Examples: Dive into case studies and customer reports that showcase the transformative power of custom ServiceNow reporting.
Speaker: Anna Odrynska
Date: November 28, 2023
Time: 10:00 AM PST
Duration: 45-minute session (Zoom)
Don't miss this unique opportunity to enhance your ServiceNow reporting and business intelligence analytics capabilities. Register now to secure your spot and unlock the potential of ServiceNow data visualization for better decision-making and business growth!
Register here: https://store.servicenow.com/sn_appstore_store.do#!/store/events
Join us, and together, let's take your ServiceNow reporting to the next level!
Request the Access to the Webinar
"*" indicates required fields