This post will compare Salesforce vs ServiceNow, two platforms dedicated to enhancing the customer experience in their unique ways. While Salesforce is a Software-as-a-Service (SaaS) tool, ServiceNow is focusing on customer-centric IT Service Management (ITSM). Salesforce offers an all-encompassing platform covering sales, marketing, and services, while ServiceNow prioritizes strengthening IT infrastructure for seamless and efficient processes. Customer Relationship Management (CRM) goes beyond technology; CRM is an art that can be achieved by utilizing various available CRM software. But this is just the tip of the iceberg. To choose the finest CRM platform for your organization's needs, we thoroughly examine each one's features, similarities, and differences.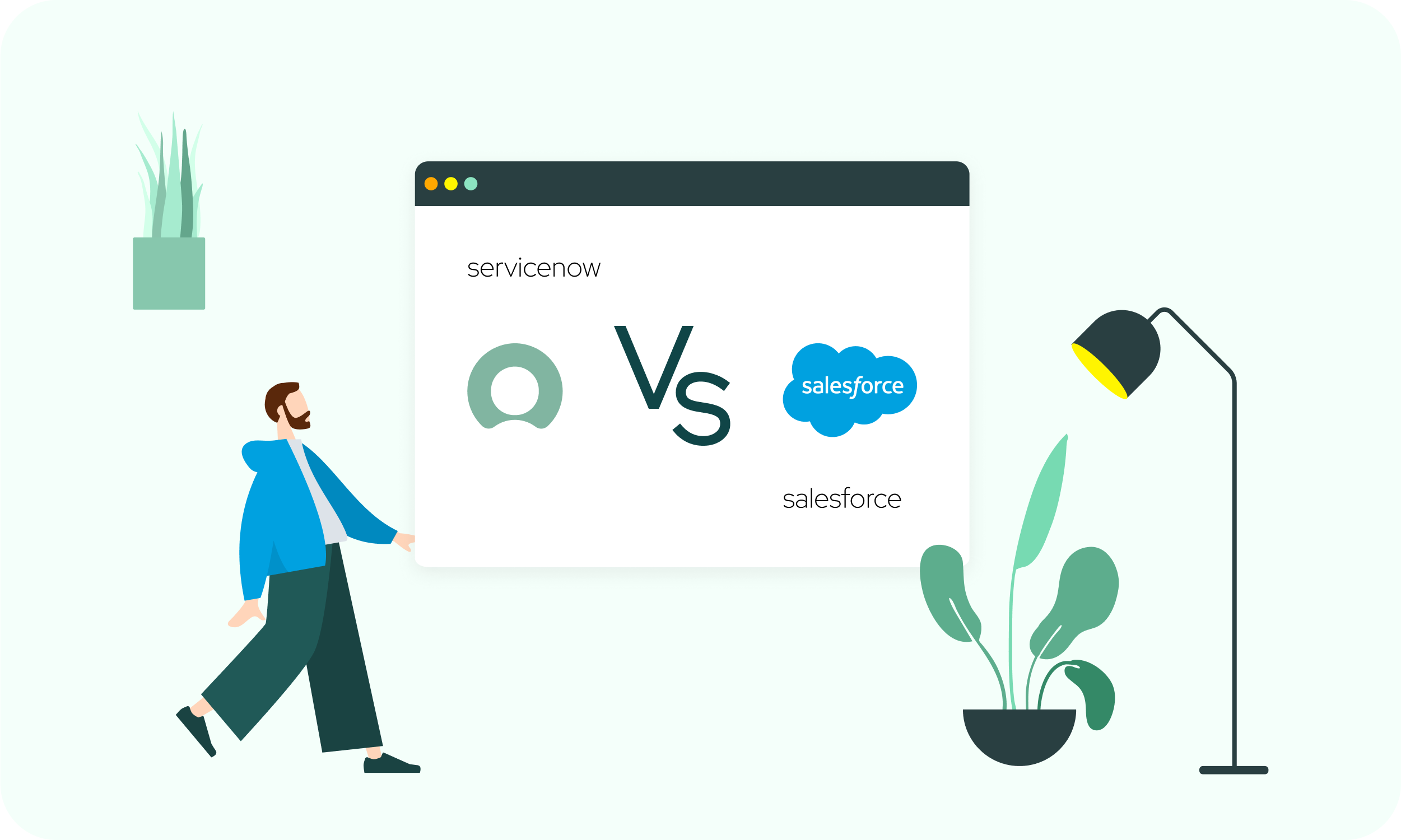 What is Salesforce
Salesforce, a leading cloud-based CRM platform, has evolved from its humble origins as a simple Software-as-a-Service (SaaS) application into a robust enterprise solution. With its multi-tenant architecture, Salesforce offers a range of advantages, including the ability to create applications, customize the platform, integrate with APIs, configure workflows, and enjoy platform compatibility. What is Salesforce used for? The core objective of Salesforce is to provide businesses with a centralized platform capable of managing multiple crucial business processes. It includes sales, customer support, marketing, financial management, request handling, and secure contact information and personal data storage.
Salesforce caters to organizations of all sizes, offering industry-specific customizations and the ability to run on platforms, including the Salesforce Cloud. Consider a retail business that wishes to enhance client satisfaction and streamline its sales operations. Salesforce constructs a centralized client database where important data including client contact information, project histories, and communication logs can be kept. That provides a thorough understanding of each customer, enabling companies to offer specialized and individualized services. Team members may easily communicate and share knowledge thanks to Salesforce's collaboration capabilities, like Salesforce Chatter, allowing to exchange project updates, ask questions, and cooperate on solutions. As a result, it makes sure that everyone on the team is on the same page and working to meet project milestones.
Features of Salesforce
Businesses may successfully manage client interactions and streamline operations by utilizing Salesforce CRM features and functionalities, which combine automation with embedded intelligence. Here are some essential characteristics that make Salesforce ITSM the best option for your company:
Salesforce Contact Management
Salesforce contact management provides a centralized database to store, organize and manage customer contacts and account information. The contact management in Salesforce enables businesses to capture and store crucial customer data, including contact details, communication history, preferences, and other relevant information. This wealth of information provides a complete understanding of the customer base, allowing businesses to provide a complex audit of customer engagement and deliver personalized experiences.
Salesforce Opportunity Management
Salesforce opportunity management offers solutions to effectively track and manage the sales funnel, from lead generation to deal closure. Opportunity management in Salesforce makes it easy to input and update lead information, assign leads to team members, and track their progress within the sales pipeline. Additionally, sales staff can create and update real-time opportunity reports and dashboards to track critical details such as transaction value, estimated close date, and probability of success. With a clear overview of each opportunity, sellers can prioritize their efforts, refine their strategies, focus on high-priority opportunities, and proactively move deals forward.
Salesforce Reports and Dashboards
Salesforce reports and dashboards allow businesses to generate reliable reports and create customizable dashboards that provide a real-time view of all ongoing and upcoming activities within the company. Creating forecasting Salesforce dashboards that display relevant charts, graphs, and tables allows users to monitor key metrics at a glance. Real-time data updates ensure that the information displayed on the dashboards is always current. While Salesforce reports provide various customization options, users can select the desired data fields, apply filters, set up schedules, define role settings, and choose the appropriate report formats. This flexibility ensures to showcase the metrics and KPIs that matter most to each company's unique reporting needs and objectives.
Salesforce Email Integration
Salesforce Email Integration allows users to connect their email tracking software seamlessly with Gmail and Outlook CRM. Users can handle all of their key email communication, contacts, schedules, and other items. Integrating Salesforce with Outlook and Gmail aids in increasing productivity and convenience when handling client interactions. Users of Salesforce Lightning can quickly synchronize important emails to Salesforce, ensure access to email history, follow communication threads, and acquire insightful knowledge into client cooperation while enabling users to send emails straight to contacts within the platform and obtain an all-encompassing overview of the client base as a whole.
What is ServiceNow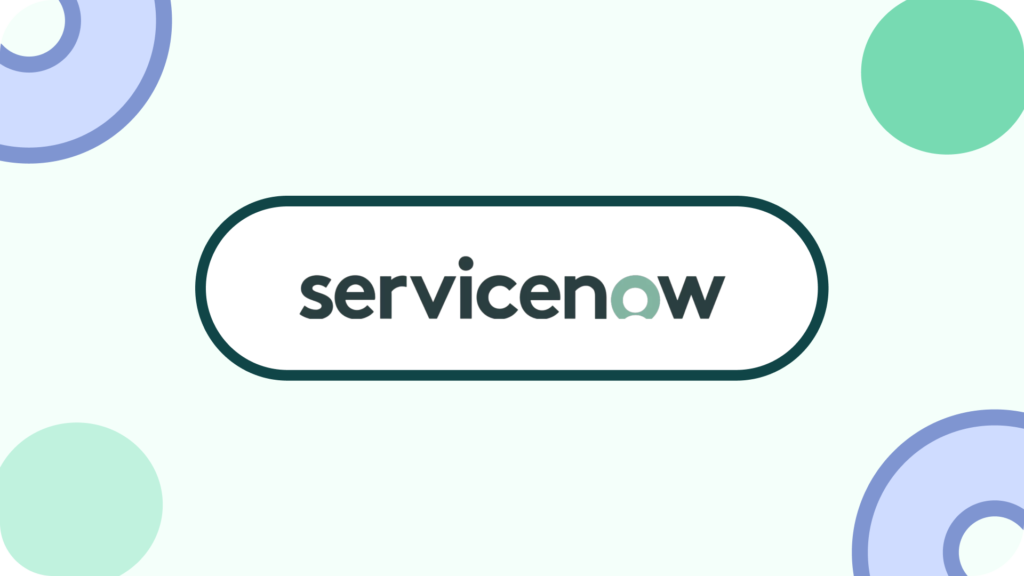 ServiceNow has established itself as a leader in IT Service Management (ITSM) for many years. However, ITSM is just one aspect of the extensive functionalities available on the ServiceNow Now Platform. This cloud-based platform encompasses many functions, with a significant section dedicated to IT Workflows. Within the IT Workflows section, ServiceNow offers modules for IT operations management (ITOM), IT business management, IT asset management, DevOps, security operations, GRC, and more. All these capabilities allow organizations to manage various IT-related processes and operations efficiently. ServiceNow's ITSM capabilities cover key areas such as discovery, service mapping, operational intelligence, cloud management, and orchestration. Using a pre-configured, ITIL-based solution, users leverage the ServiceNow Platform to automate incident, problem, change, configuration, and request management.
What sets ServiceNow apart is its expertise in tracking workflows across numerous IT systems and applications. The platform excels at keeping tabs on all aspects of the IT infrastructure, ensuring efficient management and timely resolution of issues. Whether it's incident management, problem management, change management, configuration management, or service desk operations, ServiceNow utilizes workflows to streamline and track these processes. The platform also integrates analytics and AI throughout these functions, providing valuable insights to drive decision-making. ServiceNow extends its workflow capabilities beyond IT operations to the Customer Workflows module, including field service management, connected operations, financial services operations, telecom, order management, and more.
Features of ServiceNow
ServiceNow distinguishes itself from other platforms with a number of unique features that include simple configuration, quick response times, flexible implementation options, cost-effectiveness, real-time reporting and analysis, data security, improved ITSM process tracking, and adaptation to varied situations.
Servicenow IT Service Management (ITSM)
ServiceNow successfully manages and monitors agent productivity across numerous locations to optimize workforce management in ITSM. The platform's planning flow gives team managers effective tools for predicting demand based on previous data. This makes it possible to handle employee events and shifts effectively, encourage work-life balance, and provide adequate support coverage in accordance with business requirements. Employee stress is decreased as a result of optimizing ITSM processes, resulting in more efficient workflows within the IT support team.
ServiceNow Analytics
ServiceNow analytics feature is powered by Natural Language Query (NLQ), supporting multiple languages and allowing users to generate reports by simply typing queries rather than running complex queries on entire documents. This user-friendly approach relates data within tables, facilitating visualization and extraction of details from the server. The result is simplified data analysis, empowering users to derive meaningful insights from their data.
Servicenow IT Operations Management
ServiceNow IT Operations Management combines event management and log analytics to automatically detect and predict IT issues before they impact the business. This proactive approach structures and automates the handling of IT flaws, preventing disruptions. Clients benefit from improved task completion times and receive regular updates on their subjects, ensuring a seamless experience. The platform's proficiency in data analysis, correlation, prioritization, and structured workflows enables swift attention and mitigation of IT challenges. It provides an analytics-driven portfolio that helps users focus on areas that aid users in concentrating on areas that demand urgent attention, speeding up value development.
Servicenow Field Service Management
ServiceNow enhances field service operations by empowering dispatchers with customizable views of critical data. Features such as SLA tracking, agent recommendations, and virtual assistants enable dispatchers to monitor their queues and take appropriate actions effectively. ServiceNow's user-friendly interface provides an intuitive and integrated experience, offering support for full dispatching, an agent-oriented calendar view, and a comprehensive dispatcher dashboard. ServiceNow Field Service Management gives dispatchers a visualized view of tasks, enabling auto-assignment, manual planning, and an overview of agent availability and legacy tasks.
Salesforce vs ServiceNow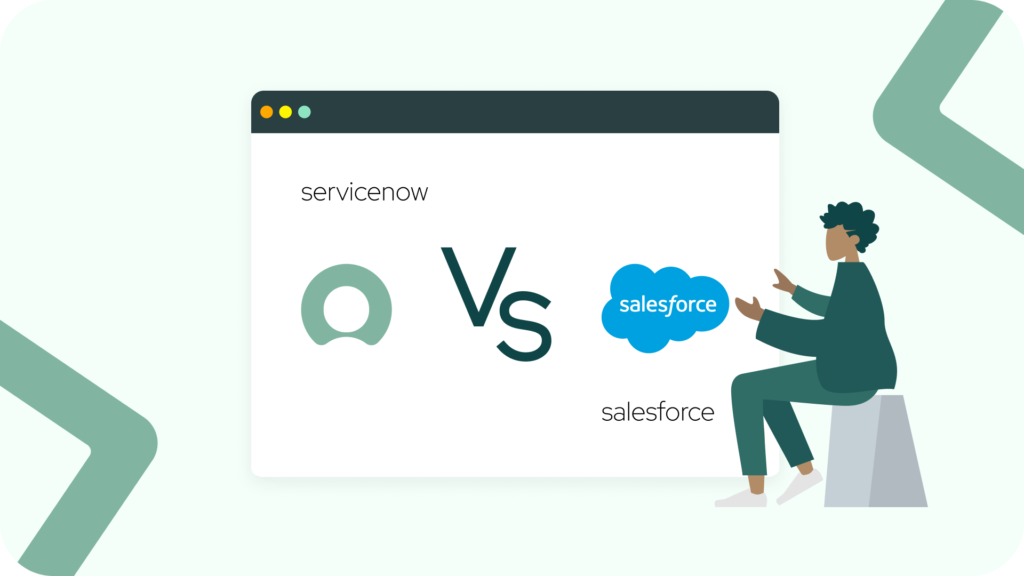 ServiceNow and Salesforce are distinctly different platforms in terms of their overall product offerings and approach to addressing the customer experience. What is the difference between ServiceNow and Salesforce? ServiceNow focuses primarily on back-end IT management, encompassing various functions necessary for efficient enterprise IT operations. On the other hand, Salesforce, which is among ServiceNow competitors, emphasizes CRM, sales, marketing, and delivering a comprehensive customer experience. To truly grasp the distinction between ServiceNow and Salesforce concerning customers, it's essential to consider their emphases.
Similarities between Salesforce and ServiceNow
Salesforce and ServiceNow may have different functionalities, but they share some similarities. Since they serve multiple company needs, the two platforms have little direct competition. Here are a few key points to consider:
It is clear from a comparison of Salesforce and ServiceNow that they both offer CRM and sales functions, allowing businesses to manage customer relationships, track sales processes, and enhance overall sales performance.
ServiceNow and Salesforce provide insights into the customer journey within an organization. They enable businesses to gain a comprehensive view of customer interactions, from initial contact to post-sale support, helping to improve customer satisfaction and engagement.
Salesforce and ServiceNow are viable options for businesses to implement. Depending on the specific needs and requirements of the organization, deploying either platform can bring value and benefits to the business.
Difference between ServiceNow vs Salesforce
When evaluating ServiceNow vs Salesforce, it is crucial to consider the notable distinctions between the two cloud-based platforms, particularly in terms of performance, integration, customer support, and usability. To make an informed decision, let's explore the key factors differentiating Salesforce and ServiceNow in their service cloud offerings.
Salesforce simplifies and streamlines business processes, allowing organizations to provide exceptional customer experiences by consolidating crucial information. On the other hand, ServiceNow optimizes customer support and IT service management (ITSM) by integrating disparate systems and empowering application development teams with systematic approaches.
Salesforce has also been working hard on the Salesforce partner ecosystem to provide a comprehensive 360-degree customer management system, simplifying implementation and integration processes. The Salesforce AppExchange includes many applications in areas such as enterprise resource planning (ERP), business intelligence (BI), office productivity, collaboration, and general cloud services. In contrast, ServiceNow has limited integration opportunities, often requiring third-party tools with associated costs and limitations.
Salesforce offers an intuitive and user-friendly interface with its Salesforce Lightning Experience, enabling users to navigate and access features quickly. It emphasizes a visually appealing and customizable user interface. ServiceNow, while functional, may have a steeper learning curve for users unfamiliar with the platform.
As a SaaS CRM platform, Salesforce offers extensive customization opportunities, a wide range of CRM capabilities, and seamless integration possibilities for businesses of all sizes. ServiceNow, as a web-based framework, primarily caters to its expert users for executing specific tasks and solutions, making Salesforce the more user-friendly option with accessible applications for end-users across devices.
Servicenow Pricing vs Salesforce Pricing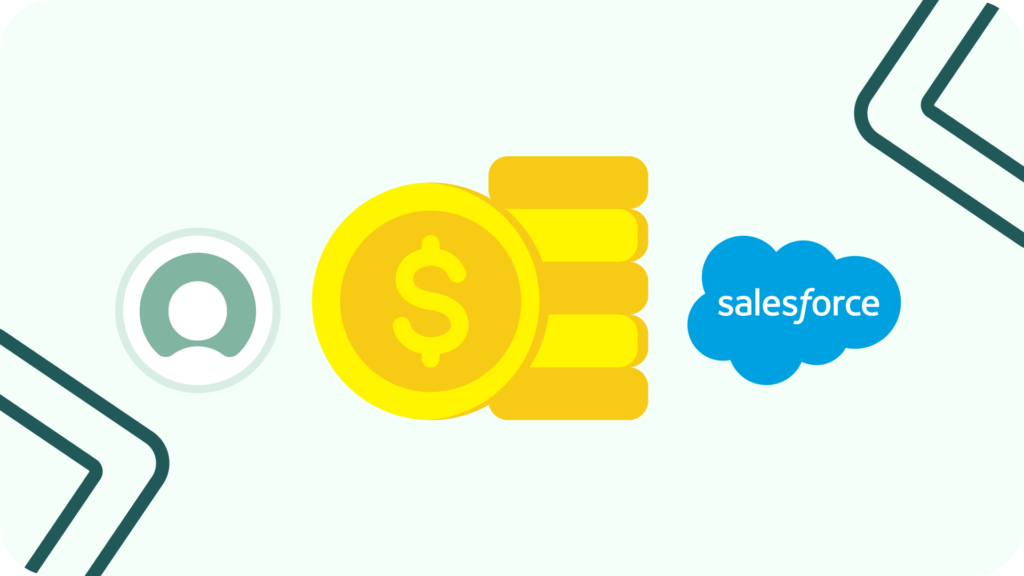 According to the official Salesforce website, their pricing structure includes the Essential package at approximately $25 per month, the Professional plan at $75 per month, the Enterprise plan at $150 per month, and an unlimited user version priced at $300.
In contrast, ServiceNow's pricing information is not readily available on its website, making it challenging for organizations to make informed decisions. To obtain pricing details and explore how ServiceNow can fulfill specific requirements, it is recommended to reach out to ServiceNow customer support executives.
Recap
Salesforce is the top choice for CRM and sales, with renowned Salesforce Einstein AI offering advanced customer analytics capabilities. Salesforce is most suitable for large enterprises seeking scalability and customization, and organizations focused on sales and marketing. On the other hand, ServiceNow is ideal for companies prioritizing back-end IT disciplines, such as ITSM and ITOM, and aiming to gain insights into workflows impacting customer-facing actions. In conclusion, Salesforce vs ServiceNow are strong platforms supporting various company functions.